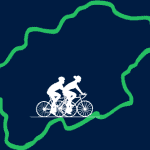 On July 1, 2023, Adrian D'Arcy and Andrew Vicknair, along with some other dubious characters, will be taking part in the Ring of Kerry Charity Cycle in Ireland. The trip has been organized by Dennis O' Neill of Beacon Consulting and Adrian and Andy are delighted to be part of Dennis's posse (Katy's Pedalers) .
Andy and Adrian will be participating in honor of Catriona (Kate) O'Sullivan, and in support of Critical – Emergency Medical Response (EMR). Kate passed away suddenly on April 3, 2022 at her home in Derryleigh, Sneem, Kerry. And Critical – EMR, a community air ambulance, provided exceptional care and assistance to her family during that trying time.
Click on the pictures below to learn more and/or donate. D'Arcy Vicknair will match all contributions made to support Andy and Adrian up to the team's goal.