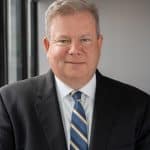 D'Arcy Vicknair founding partner, Adrian D'Arcy, is delighted and honored to have been selected as a panelist at this week's 2023 Pearlman Association Annual Conference in scenic Woodinville in Washington State.
Featuring many esteemed and respected professionals in the surety industry, the Pearlman Conference's goal is to strengthen and enhance the talent, professionalism and career prospects of surety professionals.
This year, Adrian is lucky enough and honored to be able to work with excellent co-panelists, Paul Friedrich of Williams Kastner, Kourtni Mason of Skyward Specialty Insurance, and Anna Frederick of EMC Insurance Companies. Adrian, Paul, Kourtni, and Anna will discuss one of the cases that shapes the surety industry, "L & A Contracting Co. v. S. Concrete Servs., Inc.," and the topic "Breach vs. Default—Triggers Under the Performance Bond." Adrian's panel, of course, is just one of many interesting panels that will be taking deep dives into surety issues this week.
Adrian is looking forward to the conference and is really looking forward to a brief respite from the heat and humidity of New Orleans!