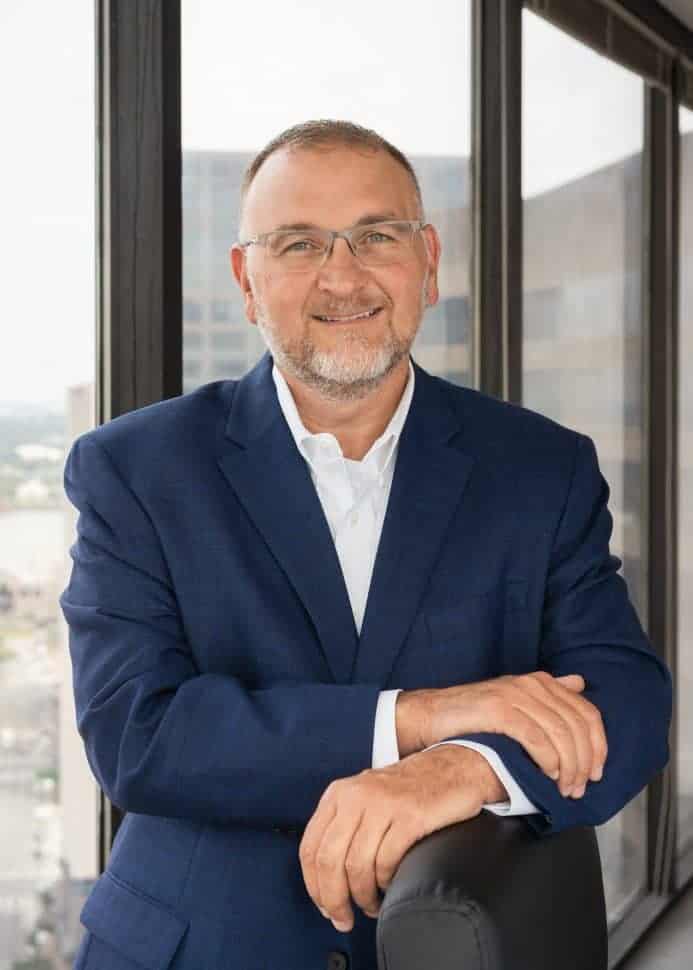 Prior to entering law school, Andrew Vicknair worked as a software engineer for a major medical manufacturer and as an electrical engineer for a major chemical manufacturer. Andrew regularly uses his prior work experience as a part of his legal practice. He is now a partner in D'Arcy| Vicknair. Andrew has over 18 years of litigation experience.
His primary practice areas include all phases of intellectual property including litigation, prosecution, and transactional matters. Andrew handles all aspects of patent, trademark, and copyright litigation; and prosecution of U.S. patent applications, trademark applications, and registration of copyrights with the United States Copyright Office. He handles the drafting and negotiation of intellectual property agreements, such as licensing agreements, assignments, non-disclosure and confidentiality agreements.
Andrew's practice also focuses on commercial and construction litigation, including claims related to construction defects, payment disputes, design issues, and general disputes among subcontractors, owners, and general contractors.
Andrew lectures on multiple aspects of intellectual property and construction law topics.
Bar Admissions
All State courts in Louisiana, New York, and Texas
United States District Courts for the Eastern, Western and Middle Districts of Louisiana
United States District Court for the Southern District of Texas
United States Court of Appeals for the Fifth Circuit
United States Supreme Court
United States Patent and Trademark Office as a patent attorney
Education
Loyola University School of Law (J.D.)
Louisiana Tech University (B.S., Biomedical and Electrical Engineering)
Associations & Honors
American Bar Association
Louisiana State Bar Association – Intellectual Property Law Section
New Orleans Bar Association – Intellectual Property Law Section and Construction Law Section
Texas State Bar Association – Intellectual Property Law Section
New York State Bar Association
Associated Builders & Contractors, Bayou Chapter
Seminars Presented
5,280: A Measured Mile, Yes … But, Is It That Straightforward, ABA, Live Webinar (October 2023)
Construction Law, From the Ground Up: Contract Licensing, LSBA, New Orleans (March 2023)
AIA Contracvt Document Workshop, HalfMoon Education, Live Webinar (February, 2023)
The Art of Creating Design Patents, Lorman Education Services, Live Webinar (January, 2023)
Contract Bonds and Insurance for the City of Monroe, HalfMoon Education, Monroe (October, 2022)
Fundamentals of Trade Secrets vs Patents, Lorman Education Services, Live Webinar (April, 2022)
Managing Construction with AIA Documents A201: General Conditions, HalfMoon Education, Live Webinar (April, 2022)
Construction Law: Advanced Issues and Answers, National Business Institute, Live Webinar (November, 2021)
Job Order Contracting Fundamentals, Lorman Education Services, Live Webinar (May 2021)
Construction Payment Remedies, Lorman Education Services, Live Webinar (April 2021)
Construction and Surety Law Issues Due to COVID-19, HalfMoon Education , Live Webinar (May 2020)
Construction Industry Issues Caused by Coronavirus, Lorman Education Services, Live Webinar (April 2020)
Contractors and Coronavirus: Contract and Other Issues in the Current Environment, Associated Builders and Contractors (New Orleans/Bayou Chapter), Live Webinar (March, 2020)
Contractors and Coronavirus: Contract and Other Issues in the Current Environment, LAGC, live webinar (March, 2020)
Construction Law: Advanced Issues and Answers, National Business Institute, New Orleans and Baton Rouge (December, 2019)
Handle Construction Project Legal Issues With Confidence, New Orleans and Baton Rouge, National Business Institute, (Dec 2018)
Claims Against Architects and Engineers/Design Professionals, Southeast Construction Defect and Dispute Conference, New Orleans, (October 2018)
Construction Contracts from Start to Finish, National Business Institute (2018)
AIA Contract Document Workshop, HalfMoon Education, New Orleans (2018)
Intellectual Property Essentials for Engineers: Patents, Trademarks, Copyrights, and Trade Secrets, HalfMoon Education, Baton Rouge (2018)
Copyright Law for Construction Plans and Specifications, Lorman (2018, 2017, 2016)
Construction Contract Workshop, HalfMoon Education, New Orleans (2017)
Current Issues in Louisiana Construction Lien Law, Lorman (2017, 2016)
Troubleshooting Construction: Project Legal Issues, NBI (2016)
Understanding AIA Document A312 Bond Forms, Lorman (2016)
Managing Engineering Risk, HalfMoon Education, Baton Rouge (2016)
Construction Law: What do you do When?, NBI (2015)
Engineering Law and Ethics, HalfMoon Education, New Orleans (2015)
Construction Disputes: Effective (and Practical) Legal Negotiation Strategies, NBI (2014)
Construction Lien Law in Louisiana, Lorman (2014)
Fundamentals of Construction Contracts in Louisiana: Understanding the Issues
Construction Law in Louisiana, NBI (2013)
Procrastinators' Programs – Patents and Trademarks, New Orleans Bar Association (2011)